Our History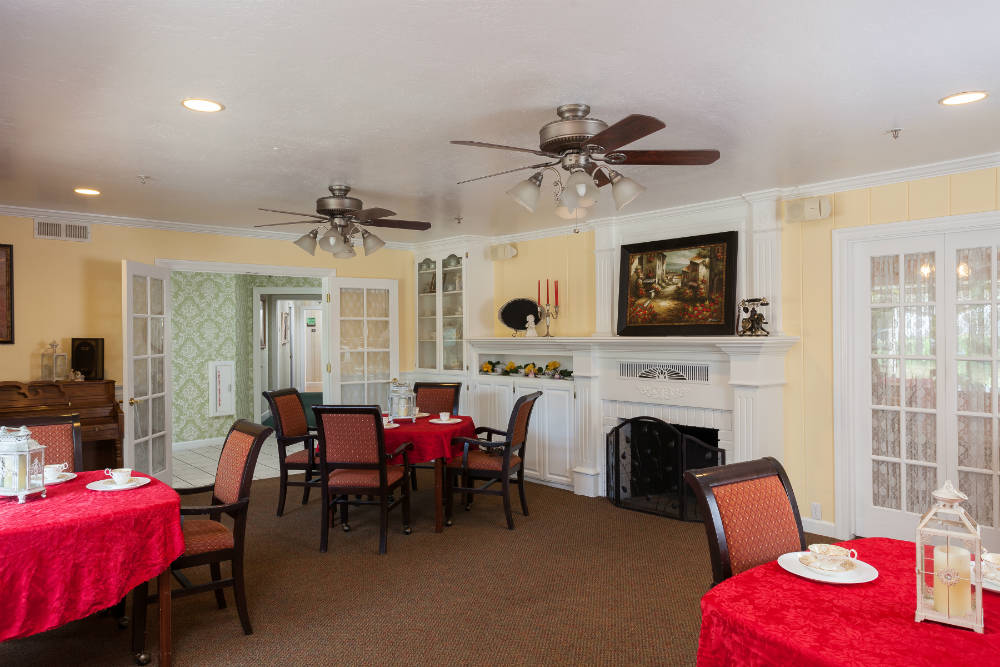 In 2015, we celebrated our 28th anniversary of providing assisted living care for seniors, and our 17th year in this location. Remnants from earlier days are still present throughout our home in form of antique tea sets, tea carts, and the Victorian highback furniture in our sitting room…but look no further than the original etched glass on the front door from the Tea Room days.
In 2001, an amazing woman by the name of Lida Perry came to live at Roses & Ivy Elder Care. Lida moved up to Chico to be closer to her family, the Perrys, a long-time Durham family. Lida had been a resident at 6 other facilities here in Chico, but was forced to move from each place as her health declined and her needs increased. At Roses & Ivy, she was able to live out her remaining years in a place that she called 'Home'. When Roses & Ivy was put up for sale in 2003, Lida's grandchildren recognized this as an opportunity to continue the legacy of extraordinary care and purchased Roses & Ivy. Although she passed away just two months before the close of escrow, her legacy lives on every day just as she lived every day…to the fullest possible.
Meet the Owners & the Director
J. Kraig Katzenmeyer, M.D. & Christine Perry-Katzenmeyer, R.D.
Dr. Katzenmeyer is a family practice physician in Davis, CA, where he has a private practice and has been involved with Sutter-Davis West Hospital. In addition, he is a Clinical Professor with the Sutter Family Practice Program. His patients range from newborns through geriatric. Kraig provides us with a wealth of information regarding illness and symptom management, medications, and diagnosing early changes in condition. We are not a medical facility, but having access to a physician 24 hours a day for consultation just makes us better informed and enables us to do a better job with keeping our residents healthy. Christine is a Registered Dietician and has provided guidance on our Dining Program and special diets. But don't let her title fool you…her primary focus for our residents is on the 'quality of life' and places a higher emphasis on the value of the dining experience. "Special diets should be balanced so that the dining experience isn't lost along the way." Christine has a private practice in Dixon, CA and consults for Group Homes for the Developmentally Disabled and Assisted Living Facilities for the Elderly. Christine and Kraig have two children, Kyle and Madison, both of whom are very active in sports, but who always find time to do volunteer work each month with children who have disabilities. Both are in High School, but Kyle has been accepted in several colleges beginning in the fall of 2015.
Brian & Becky Perry
Brian is the managing partner, running the business locally since 2003. He spent the previous 10 years as the Sr. Vice President of Customer Operations for a large financial company. At one time, he managed nearly 3,400 employees in four states with a management team of 350. Although his responsibilities have changed dramatically, he is thrilled to be back in the area he grew up in. His background in customer service, employee relations, payroll, and over 27 years of management experience lend themselves directly to the daily management of Roses & Ivy. But don't let titles fool you…Brian is still the 'maintenance guy', the plumber, and the electrician...we wear a lot of hats at Roses & Ivy. Becky, his wife, is a teacher in the area and mother to their two children, Taylor & Ryker. When she's not spending time with her family, or trying to corral Kindergarteners, you'll probably find her out training for her next half marathon…as if she doesn't get enough running during her day job.
Cindy Denney
Director of Resident Care - In 2015, Cindy celebrated her 25th year working with both elderly & developmentally disabled adults. Although Cindy did not enter this field until her 30's, it was obvious early on that she was a 'Natural Caregiver.' Cindy and her husband Donny, natives of Butte County, have 2 daughters & 6 grandchildren. Cindy is a 'hands-on' Director...in fact, you will often find her assisting a resident, talking with families, or on the phone with a doctor, or meeting with a nurse, discussing a resident's care. Her commitment to our residents and their families is extraordinary. She has often been heard to say "We are in the business of caring for others...for me, there is no higher calling."